This year, Telecel Group sponsored AHUB to empower African startups at AfricaCom, the largest African Telco, Media, and Technology Event. Africa Startup Initiative Program (ASIP) hosted a panel discussion on 'Fintech Investment and Startups in Africa' at the AfricaCom 2019. The panel was moderated by Heide Patmore featuring Jenny Ward (CEO of Neighbiz), Waheed Adam (Founder of Prime Group), Phathizwe Malinga (Managing Director at SqwidNet), Jignesh Dave (CEO of Next Cellular), and Irfan Pardesi (Founder of ACM Gold). The influential voices shared their perspectives and personal experiences on African startups in the Fintech space, current and future industry trends, and the 4th industrial revolution and how it would affect all countries across the great African continent.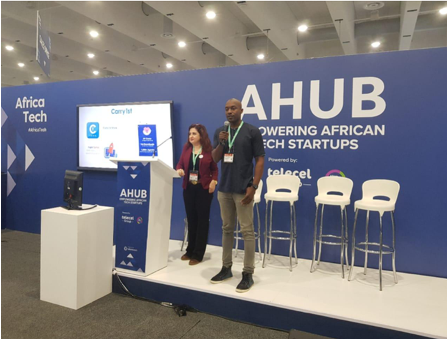 Ms. Eleanor Azar, Board Executive Deputy of Telecel Group and ASIP Program Director, initiated the panel by introducing Telecel Group and Africa Startup Initiative Program. "There is a reciprocal affinity between Telecel and Africa, so in order for us to give back to the community, we have recently launched a CSR Program under the name ASIP, and this program's main purpose is to support all startups related to Africa in the technology and telecom fields," stated Ms. Eleanor Azar. then she proceeded to introduce four startups out of the total startups participating with ASIP at the AfricaCom 2019. Carry 1st, Talk 360, QSecGlobal and Shelt were given the opportunity to present their pitch to a diverse audience of international organizations representatives, industry professionals, experts, and investors.
Following that, Ms. Heide Patmore, moderator of the panel proceeded to welcome and introduce the panelists and theme. Ms. Patmore gave the panelists the chance to introduce themselves and their companies' operations. The first topic conferred was the fourth industrial revolution and how it would affect investments in African countries.
Phathizwe Malinga, Managing Director at SqwidNet, advanced to give his valuable input by discussing the previous industrial revolutions and how they transformed certain countries and economies. Mr. Malinga hopes the fourth industrial revolution will allow for for nations like the ones in Africa to leap frog and increase their life expectancy.
Subsequently, Waheed Adam, Founder of Prime Group, shared his experience on entrepreneurship and investment in Africa. Mr. Adam stated, "When you are embarking on a journey into Africa, do the research, you can't expect the market there to be the same as the market here. The markets are different and so are the needs. Africa is a huge market, and yes you can make a lot of money in Africa, but do the research, it might not be what it appears.". Mr. Adam then concluded by telling a story from his personal experience on the challenges Prime Group previously faced and the lessons they learnt. Jignesh Dave, CEO of Next Cellular, also added his thoughts on entrepreneurship. He stated that what is important is to find a niche and solve the problem, hence, making people's lives easier.
Some of the panellists also had previous collaborations with some big players in the market. Jenny Ward, CEO of Neighbiz, shared an experience she encountered with the VP of Microsoft. Ms. Ward also shared some words of wisdom on failures and what they mean to her. She stated "If you are an entrepreneur, as I believe all of us are, you have to be agile, you have to look at the failures and think about what I can do to solve this. And we do fail. I mean I am sitting here amongst very successful entrepreneurs, I wonder how many went through obstacles like mine from time to time. I know I have failed, a lot, but those failures have pointed me ultimately into the right direction.".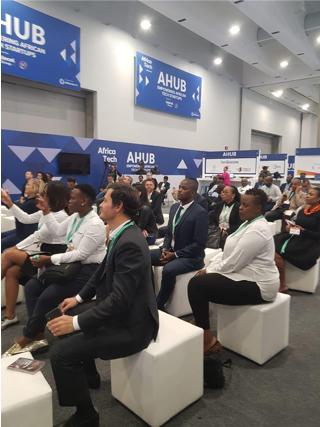 Another topic discussed was the trends affecting investment climate in Africa. Mr. Malinga exclaimed, "I think a lot of the products and services in Africa are very main stream, they provide very good value but they only service maybe 10% of the population. The population don't require all the features that come with the product or service, but need the same basic service that underlies that product or service structure. So, startups can cater to the underserviced market by using the available technology that is there and not competing with bigger companies. So, what I think you need to see as an investor is don't try to invest in the next Facebook, but rather invest in the company that will service the people that can't afford Facebook, then before you know it your product will be suddenly competing with the Facebooks, going mainstream, getting that scale, and growing bigger than you thought".
Discussions on startups that have the potential of solving common challenges took place. The panelists proceeded to share their personal experiences on this matter and how they would not never have expected for their startups to compete with the bigger players in the market. Irfan Pardesi, Founder of ACM Gold, expressed enthusiasm about Fintech in Africa. He affirmed, "I think we do have the opportunity to leapfrog. The average revenue per user in Africa was so low that it did not make economic sense for anybody to go out to rural area. But now, because we have multiple products and multiple services, the lifetime value of a customer is increasing so exponentially that more and more Telecom and Fintech providers could potentially go down to these markets and take a much bigger chunk. We have a fantastic environment when it comes to Fintech!".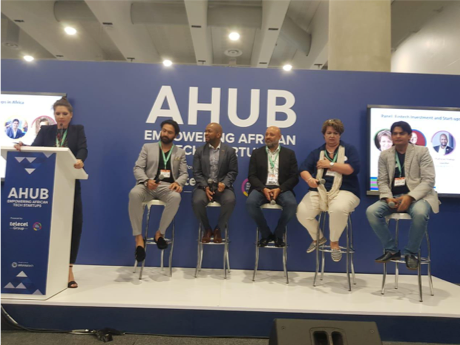 Lastly, the panellists discussed factors that currently make Africa attractive for investors and the work that needs to be done to increase investment in Fintech. Mr. Adam cited some of the most successful inventions in the world and pointed out how they came out of necessities based on the environment. He stated, "I think Africa is its own environment, it has its own needs and there's a lot of talent in the countries. We also understand the local environment and therefore, we understand the kind of solutions that are going to be driving our economies here. The international communities understand this and they have money that Africa requires. They see this opportunity and come to collaborate with us on innovations that suit our environment. I think that's driving investments here".
Ms. Patmore concluded the panel by stating, "At the end of the day we have the fastest growing population and the most untapped market, we have a continent where all the growth is happening in the next 10 years, so where else better to be than in Africa".
Visit Africa Startup Initiative Program's YouTube channel to watch the full panel: https://www.youtube.com/channel/UCK0Ry2aiGYVjzl1KbJrsdPg/videos